MULTIRAIL® WheelLoad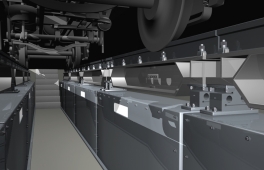 Ensuring quality in vehicle production and commissioning.
Ensuring quality in production and maintenance are the most important prerequisites for optimum driving performance. Radial and axial loads as well as optimal load distribution are a prerequisite for safety on the track.
The flexible and modular built-in MULTIRAIL® WheelLoad hardware and software technology detects these values precisely within the chassis of the locomotive and wagon. It saves both time and cost while ensuring high quality.
Possible installation of the system as a measuring track
PTB Permit
Static and dynamic axial and radial load control of locomotives and carriages
Determining the weight of the wagon and checking its center of gravity
Determining the weight distribution in the chassis