About us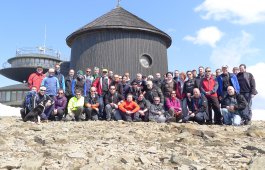 Schenck Process is a global market leader in solutions for industrial weighing and feeding technologies, conveyance and screening of bulk material and air filtration technology. Learn more about our capabilities here.
History of Schenck Process dates back to 1881 when Carl Schenck opened a scales factory in Darmstadt, Germany. In 1990 the Schenck Company established a permanent representation in Prague and since then it has gradually expanded its scope of activities both in the Czech market and within the group. Currently the subsidiary develops and markets the products of its own design and holds the position of the "Centre of Competence" for alternative fuels and mechanical conveyance of bulk materials for the entire Schenck Process Group. In addition, the Czech subsidiary of Schenck Process addresses supply and servicing of technologies for industrial weighing and feeding of all kinds.
Part of a growing number of activities included the acquisition of the Czech company of TEDO in 2009. Schenck Process s.r.o. thus extended its product portfolio to special belt conveyors, such as tube belt conveyors or Flexowell® elevators, not only for applications in the field of alternative fuels.
Other brands of the Schenck Process Group are: